Start Your Child's Jiu-Jitsu Journey Today!
Are you looking for a way to keep your child active and simultaneously build real-world skills, gain discipline and respect, and heighten their self-confidence?
Look no further than RT Martial Arts Jensen Beach. By teaching our students the fundaments of Brazilian Jiu-Jitsu, we help them establish lifelong habits of fitness, teach important life lessons, and their confidence will soar! Discover why we're the premier destination for Kids Jiu-Jitsu by visiting our spacious facility today!
... or simply fill out the short form on your screen to learn more!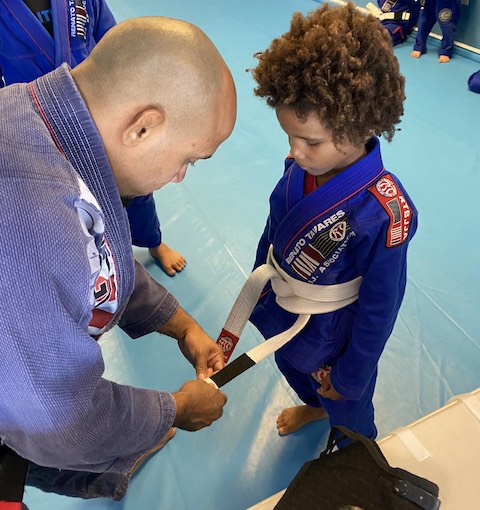 Why Are Kids Jiu-Jitsu Classes Right For Your Child?
Some parents think that the martial arts are all about combatives, punches, and kicks, but that couldn't be further from the truth. The martial arts are about philosophy as much as physical fitness. Brazilian Jiu-Jitsu studios feature collections of people from all walks of life -- doctors lawyers, policemen -- coming together under a common purpose, and our goal is to make our Kids Jiu-Jitsu classes the same. We want to give your child the skills they need to succeed, whether they settle down here in Jensen Beach or travel the world!
Check out our Kids Jiu-Jitsu classes at RT Martial Arts Jensen Beach
to get started on:
Improved self-confidence for your child
A heightened sense of discipline and respect
Teamwork and leadership skills that will last a lifetime
Lasting habits of fitness, health, and wellness
And Our Kids Jiu-Jitsu Classes Are Fun!
Your kids won't even realize how much they're learning in our Jiu-Jitsu classes. As they roll on the mats with other kids, they'll build muscle and become more flexible, make friends, and experience all sorts of physical and mental benefits. From hand-eye coordination to pure strength to better self-esteem, the benefits of kids martial arts are endless... and RT Martial Arts Jensen Beach is ready to serve families in their jiu-jitsu journeys!
Jensen Beach's best Kids Jiu-Jitsu classes will give your child the opportunity to:
Improve their strength & flexibility
Gain hand-eye coordination
Learn real-world self-defense techniques
Meet new friends & mentors
Come See Us In Jensen Beach Today For Kids Jiu-Jitsu Classes!
RT Martial Arts Jensen Beach is committed to providing the best training possible so that your child can enjoy the lasting benefits of martial arts training. Help your child build strength, flexibility, and self-confidence... all it takes is the first step!
Simply fill out the short form on your screen for more info!